Help Tab
This tutorial explains the Help tab in WP-Property Settings. This tab allows you to do many useful things that will help you.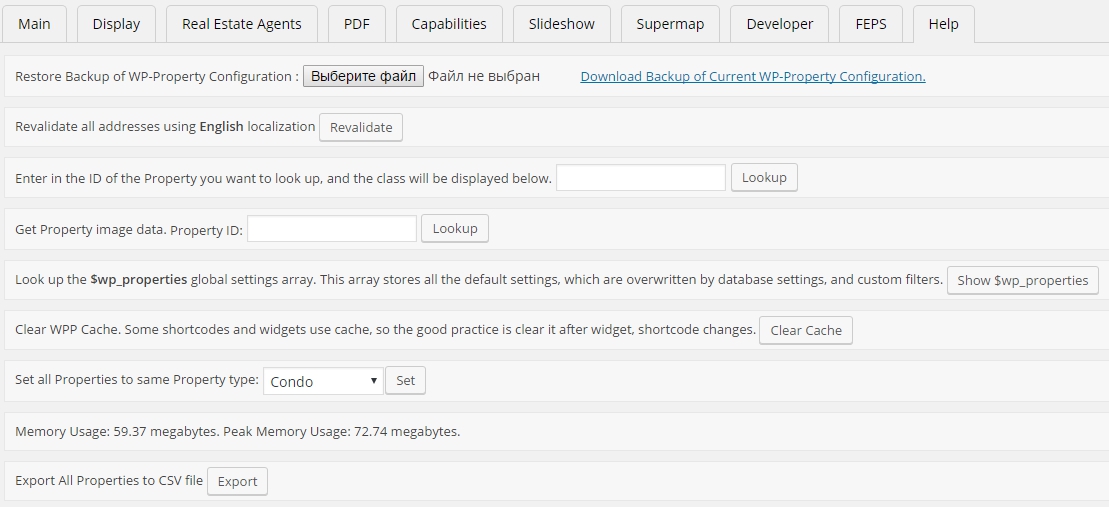 You can set up here
Restore Backup of WP-Property Configuration.
Download Backup of Current WP-Property Configuration.
Revalidate all addresses using your localization.
You have ability to enter in the ID of the property you want to look up, and the class will be displayed below.
To get property image data, you need to type Property ID.
Look up the $wp_properties global settings array. This array stores all the default settings, which are overwritten by database settings, and custom filters.
Clear WPP Cache. Some shortcodes and widgets use cache, so the good practice is clear it after widget, shortcode changes.
You can set all properties to same property type.
Memory Usage and Peak Memory Usage information can be found here too.
Export All Properties to CSV file
You can Look up XML import(WP-Property: Importer add-on) history, that shows last 500 imported items in descending order.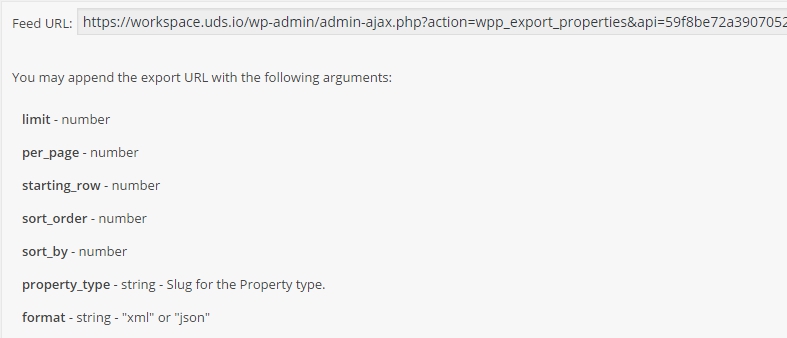 You may append the export _Feed _URL with the following arguments:

limit - number,
per_page - number,
starting_row - number,
sort_order - number,
sort_by - number,
property_type - string - Slug for the property type,
format - string - "xml" or "json".

Show Log. The log is always active, but the UI is hidden. If enabled, it will be visible in the admin sidebar.
Delete Unattached Files
Show XML Import History. Show last 500 imported items in descending order. (WP-Property: Importer add-on)