Settings Page
As the case with most of our premium features, a tab will be added to the Settings page. Within this tab you can configure some of the global Supermap settings, such Sidebar Attributes, which is a list of attributes (Bedrooms, Bathrooms, Address, etc.) to be displayed in the left sidebar of Supermaps.
Be sure to set your Supermap sidebar thumbnail to something relatively small - we recommend 90px by 90px, if not smaller.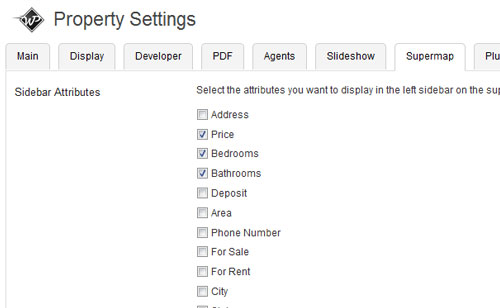 To configure the attributes that are displayed in the popup bubble, visit the Settings -> Display tab, where under Google Maps you can configure the attributes, as well as the size of the thumbnail image inside the popup.
Map Markers
Allows you to upload different Google Maps custom markers for each property type or single property. Map markers for property types you can set on Properties/Settings/Developer page Property Types table. For single property - on Single Property editing page.